WE DID IT!
RAISED FOR OUR NON-PROFIT PARTNERS!
Thank you to all our non-profit & building partners for hosting over 1,000 Over The Edge events; to our over 75,000 event participants who raised funds for their favourite causes; and to our dedicated staff who make it all happen!
Read more on Business Wire.
What is Over The Edge?
We support non-profit organizations in running unique, profitable and exciting urban rappelling fundraising events.
Our average event raises over $100,000, with an average of only 65 participants. From small teams to national organizations, we have helped non-profit organizations across North America successfully raise millions of dollars to support their causes. Our expertise in fundraising and our amazing support program can help you make a positive impact in your community.
Since 2008, we have helped non-profits around the world raise over $100 Million.
How do we do it? 
We started with an exciting event—urban rappelling—that provides a life-changing experience to participants, while making a positive impact for local non-profits. Over The Edge is the only global industrial rappelling event company in the world!
With the fundraising expertise of our Client Experience Managers, non-profit organizations of all shapes and sizes can host a successful fundraising event with us. Our support throughout the process means that teams small and large, CEOs, moms & dads, young & old, and individuals of all ability levels can be a part of your next big fundraising adventure!
AMAZING EVENTS
If you're tired of the traditional fundraisers like runs, walks, galas, and golf tournaments, set yourself apart with something amazing! Over The Edge creates an incredible appeal to the general public, as 58% of event donors are new. 
TOTAL EVENT SUPPORT
Our Client Experience Managers work with you from day one to make sure the event is your best and most successful! We understand what it takes to attract participants, and we make it easy for you to give them the tools needed to raise funds.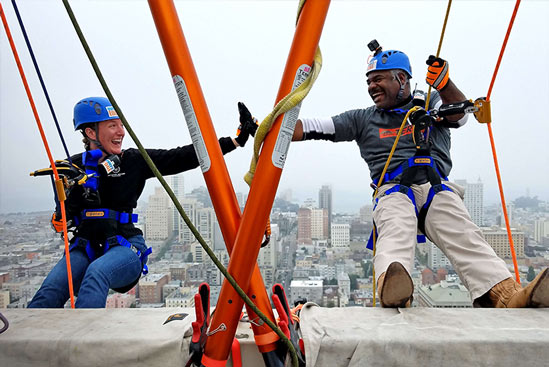 WORRY-FREE LOGISTICS
With our comprehensive event insurance, excellent safety record, support finding the right venue, and professional technical staff on hand for all-day event leadership, we make sure that all the pieces add up to a massive success for your organization.
Check out our Urban Rappelling Fundraising Events in more detail.
Let's go!
NON-PROFIT EVENT MANAGERS
I'm looking for unique fundraising events and support services.
CORPORATE EVENT PLANNERS
I'm looking for unique corporate event ideas and support services.